Motorcycle Battery
GET's lithium motorcycle batteries deliver high power with just limited bulk and weight. Athena developed them at the request of the best teams, mechanics, and riders, with whom GET has been working for years. Two models are all that are needed to be compatible with all the main Cross or Enduro motorcycles. These products have been designed for motocross and Enduro motorcycles using OEM lithium batteries, but also to replace original and compatible lead-acid batteries. The major advantages with respect to those of traditional lead-acid batteries are:
- extraordinary cold-start power
- high resistance to high temperature (up to 230°C)
- extreme charging speed
- excellent product strength and life
- brass terminals for higher electrical and mechanical performance
- ultra-lightweight
- water and dust resistant (IP54)
GET lithium batteries are manufactured with special resin technology that protects the internal parts from cold and moisture and increases product life, cold-start capacity, conductive properties, and shock absorption. As per all the GET products in our catalog, GET lithium batteries are top quality products with the highest reliability, created for professional riders but also perfect for everyday ones.
Read more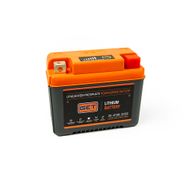 Legenda dello storico prezzi
---
Questo è il prezzo attuale dell'articolo con sconto applicato e IVA inclusa
Questo è il prezzo originario dell'articolo senza sconti (prezzo di listino)
Questo è il prezzo più basso che ha avuto l'articolo nei 30 giorni prima di essere scontato