LEATT
Moto hard shell chest protector 5.5 Pro
€ 269.99
Vat included 23%
Quantity
Bullet points
Punteggio totale Leatt® di 15 punti
Schiuma anti impatto morbida e ventilata 3DF AirFit
Test e certificazione CE per la protezione dagli impatti
Description
The hard shell 4.5 Chest Protector Pro is lined with 3DF AirFit impact foam and offers chest, back, shoulder and flank protection.
CE tested and certified, and it scores a total of 17 points in the Leatt protection rating system, 3D multi-layer, multi-plate articulating design that proves to be comfortable as well as ventilated.
Compatible with or without a Leatt neck brace and passes the new FIM regulations.
Next step up in protection level is the Chest Protector 5.5 Pro HD with a score of 20 points.
Technical features
| | |
| --- | --- |
| CE Certification Type Back | EN1621-2 Livello 2 |
| | |
| --- | --- |
| CE Certification Type Chest | EN1621-3 Livello 2 |
| | |
| --- | --- |
| CE Certification Type Shoulder | EN1621-1 |
| | |
| --- | --- |
| Material Detail | 32% Polypropylene 32% Polyester 30% Polyurethane 2% Other |
| | |
| --- | --- |
| Protection Typology | Hard protection |
Similar products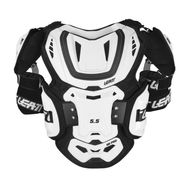 LEATT
5014101102
Moto high performance chest protector 5.5 Pro HD
Technical features
CE Certification Type Back: EN1621-2 Livello 2
CE Certification Type Chest: EN1621-3 Livello 2
CE Certification Type Shoulder: EN1621-1
Color Detail: White
€ 299.99
Vat included 23%
LEATT
5014101101
Moto high performance chest protector 5.5 Pro HD
Technical features
CE Certification Type Back: EN1621-2 Livello 2
CE Certification Type Chest: EN1621-3 Livello 2
CE Certification Type Shoulder: EN1621-1
Color Detail: Black
€ 299.99
Vat included 23%
LEATT
5014210131
Junior moto high performance chest protector 5.5 Pro HD
Technical features
CE Certification Type Back: EN1621-2 Livello 1
CE Certification Type Chest: EN1621-3 Livello 2
CE Certification Type Shoulder: EN1621-1
Color Detail: Black/white
€ 239.99
Vat included 23%
LEATT
5014210132
Junior moto high performance chest protector 5.5 Pro HD
Technical features
CE Certification Type Back: EN1621-2 Livello 1
CE Certification Type Chest: EN1621-3 Livello 2
CE Certification Type Shoulder: EN1621-1
Color Detail: White/black
€ 229.99
Vat included 23%
LEATT
5015300100
Ultra vented moto chest protector 4.5
Technical features
CE Certification Type Back: EN1621-2 Livello 2
CE Certification Type Chest: EN1621-3 Livello 2
Color Detail: Black
Material Detail: 47% Polyethylene 31% Polyester 18% Polyurethane 4% Other
€ 199.99
Vat included 23%
LEATT
5015300110
Ultra vented moto chest protector 4.5
Technical features
CE Certification Type Back: EN1621-2 Livello 2
CE Certification Type Chest: EN1621-3 Livello 2
Color Detail: White
Material Detail: 47% Polyethylene 31% Polyester 18% Polyurethane 4% Other
€ 199.99
Vat included 23%
TROY LEE DESIGNS
52030208
Youth TLD CP5900 chest protector
Technical features
Color Detail: Black
Size: L
Protection Typology: Soft protection
Net Weight (Kg): 0.30
€ 189.99
Vat included 23%
Bestsellers in the category Apparel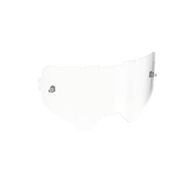 LEATT
8019100090
Leatt antifog replacement lens
Technical features
CE Certification Type: EN 1938 : 2010
Color Detail: Clear
Anti Fog Dual Lens: Yes
Lens Type: 2,7 mm Bulletproof