GET
RX1 PRO Control Unit with WiFiCOM and Map Switch
Quantity
Bullet points
Integrated Traction Control (GPA technology) and compatible with electronic Launch Control (LC-GPA device)
Completely programmable via Wi-GET App and MAYA software
Description
RX1 PRO is the ECU for 4-stroke engines starting from 2018 onwards; a plug&play and fully programmable unit that makes this device the perfect mixture of technology and flexibility. RX1 PRO comes with 2 maps developed by GET R&D Department to maximize the performance of standard engine:
- Map1: Racing
- Map2: Racing + GPA "Traction Control" Level 5 to offer higher grip on difficult track conditions.

These maps are compatible with both standard and aftermarket exhausts systems.

RX1 PRO is also the best solution in case of modified engines: it is possible to modify the calibration map through both WiGET App, by using the included WiFiCOM device, and/ or MAYA software (sold separately).

Furthermore, RX1 PRO can be reconverted to other bike models (due hardware compatibility).

Technical features
| | |
| --- | --- |
| Compatible Also With Tuned Engines | Yes |
| | |
| --- | --- |
| Compatible With Get Second Injector | No |
| | |
| --- | --- |
| Compatible With Gpa Switch | Yes |
| | |
| --- | --- |
| Compatible With Lc Gpa | Yes |
| | |
| --- | --- |
| Compatible With Wificom | Yes |
| | |
| --- | --- |
| Data Logging Compatibility | Yes |
| | |
| --- | --- |
| Kit Second Injector Included | No |
| | |
| --- | --- |
| Map Setting Modality | Via WiFiCOM o MAYA Software |
Bestsellers in the category Electric parts
GET
GK-GETHM-0002
Hour Meter
Technical features
Replaceable Battery: No
display: LCD
Battery Life: 6 years
Ip Standard Level: IP68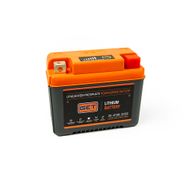 GET
GK-RX1TNR-0003
RX1 PRO TUNER Control Unit with Map Switch
Technical features
Data Logging Compatibility: Yes
Compatible With Gpa Switch: Yes
Compatible With Get Second Injector: Yes
Compatible With Lc Gpa: Yes