LEATT
Junior moto chest protection 2.5 with adjustable waist straps
Quantity
Bullet points
Total Leatt® protection score of 3 points
CE tested and certified as roost protection
Description
A light chest protector with premium hard-shell roost protection.
CE tested and certified, it scores a total of 3 points in the Leatt protection system.
The 3D design and adjustable waist straps offer a close fit that is comfortable as well as ventilated.
Compatible with or without a Leatt neck brace but does NOT pass the new FIM regulations.
Next step up in protection level is the 4.5 Chest Protector with a score of 12 points and which passes FIM.
Technical features
| | |
| --- | --- |
| CE Certification Type Back | Nessuna Certificazione |
| | |
| --- | --- |
| CE Certification Type Chest | Nessuna Certificazione |
| | |
| --- | --- |
| Color Detail | Orange/black |
| | |
| --- | --- |
| Material Detail | 77% Polyethylene 20% Polyester 3% Polyurethane |
| | |
| --- | --- |
| Protection Typology | Hard protection |
Similar products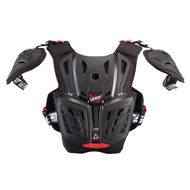 LEATT
5017120131
Junior moto chest protector 4.5 pro with shoulders
Technical features
CE Certification Type Back: EN1621-2 Livello 2
CE Certification Type Chest: EN1621-3 Livello 2
CE Certification Type Shoulder: EN1621-1
Color Detail: Black/red
€ 199.99
Vat included 23%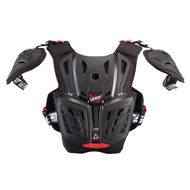 LEATT
5017120130
Junior moto chest protector 4.5 pro with shoulders
Technical features
CE Certification Type Back: EN1621-2 Livello 2
CE Certification Type Chest: EN1621-3 Livello 2
CE Certification Type Shoulder: EN1621-1
Color Detail: Black/red
€ 199.99
Vat included 23%
LEATT
5017120100
Moto chest protector 4.5 Pro with shoulders
Technical features
CE Certification Type Back: EN1621-2 Livello 2
CE Certification Type Chest: EN1621-3 Livello 2
CE Certification Type Shoulder: EN1621-1
Color Detail: Black
€ 229.99
Vat included 23%
Bestsellers in the category Apparel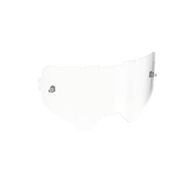 LEATT
8019100090
Leatt antifog replacement lens
Technical features
CE Certification Type: EN 1938 : 2010
Color Detail: Clear
Anti Fog Dual Lens: Yes
Lens Type: 2,7 mm Bulletproof