ATHENA
Big Bore Cylinder Kit Ø 53 mm, 105,46 cc with Exhaust Valve Kit and Modular Head
€ 1001.99
Vat included 23%
Bullet points
Maximum durability and smoothness thanks to a special nickel and silicon treatment of the barrel
Maximum durability and smoothness guaranteed by a special nickel and silicon treatment of the barrel
Cylinder made of a special light aluminum alloy
Description
Athena has been constantly investing in cylinder aftermarket replacement parts for more than ten years, to improve their production and performance. All the cylinders are entirely engineered in Italy by Athena's R&D Department which has a strong internal know-how and cutting-edge tools to design and test each piece. They are coated with motor-nicksil, a nickel-silicon coating developed by Athena to obtain smoothness and optimal wear resistance.
Athena's cylinder kits and its components are recognized worldwide for their performance, durability and reliability.
Athena's Big Bore Cylinder Kits guarantees an increase in performance that can be observed along the power curve, keeping the reliability at the same level of the original components.
The kit includes the high-quality aluminum cylinder with increased bore and galvanic coating, barrel designed with 5 exhaust ports, cylinder head with interchangeable central dome, flat-top cast piston with two rings, special Ergal valve with nickel treatment, and all the necessary gaskets.
All the components of the kit have been developed to withstand the highest temperatures, pressures and stresses and have been validated by Athena technicians with severe bench and road tests.
CAUTION! All Athena products must be used in compliance with the specific national regulations of the member state where it is being marketed or sold. Athena declines all responsibility for any improper use.
Vehicle compatibility
YAMAHA YZ 85 cc 2019/2023
Bestsellers in the category Parts
ATHENA
P40FORK455054
Fork Oil Seal Kit 41x54x11 mm
Technical features
Oil Seal Total Height (mm): 11.00
External Diameter (mm): 54.00
Internal Diameter (mm): 41.00
Material: Rubber
ATHENA
P40FORK455050
Fork Oil Seal Kit 40x52x10/10,5 mm
Technical features
Height: 10.00
Oil Seal Total Height (mm): 10.50
External Diameter (mm): 52.00
Internal Diameter (mm): 40.00
ATHENA
P40FORK455166
Fork Oil Seal Kit 41x53x8/10,5 mm
Technical features
Height: 8.00
Oil Seal Total Height (mm): 10.50
External Diameter (mm): 53.00
Internal Diameter (mm): 41.00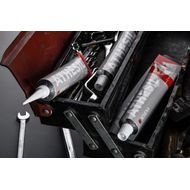 ATHENA
P400270600083
Top End Gasket Kit
Technical features
Net Weight (Kg): 0.08
Vintage: No
ATHENA
P40FORK455015
Fork Oil Seal Kit 31x43x10,3 mm
Technical features
Oil Seal Total Height (mm): 10.30
External Diameter (mm): 43.00
Internal Diameter (mm): 31.00
Material: Rubber