SKF
Ball bearing oil pump 3/8"
Quantity
Bullet points
Very high sealing capacity and reliability
Perfect compatibility with any recommended application
Unbeatable price-quality ratio
Description
Athena supplies the widest range of spare gaskets available on the market. Athena gaskets are the result of over forty years of experience in the sector, solid know-how and advanced technical skills in design and production. Athena praises a constant technological development carried out by an in-house team of engineers and designers and a production Made in Italy performed following the strict parameters required by OEMs.
OEM Codes
| Partner | OEM code |
| --- | --- |
| HARLEY DAVIDSON | 8866 |
Vehicle compatibility
HARLEY-DAVIDSON EVOLUTION BIG TWINS 1340 cc
HARLEY-DAVIDSON EVOLUTION SPORTSTERS
HARLEY-DAVIDSON PANHEAD
HARLEY-DAVIDSON SHOVELHEAD
Bestsellers in the category Parts
ATHENA
P40FORK455054
Fork Oil Seal Kit 41x54x11 mm
Technical features
Oil Seal Total Height (mm): 11.00
External Diameter (mm): 54.00
Internal Diameter (mm): 41.00
Material: Rubber
ATHENA
P40FORK455050
Fork Oil Seal Kit 40x52x10/10,5 mm
Technical features
Height: 10.00
Oil Seal Total Height (mm): 10.50
External Diameter (mm): 52.00
Internal Diameter (mm): 40.00
ATHENA
P40FORK455166
Fork Oil Seal Kit 41x53x8/10,5 mm
Technical features
Height: 8.00
Oil Seal Total Height (mm): 10.50
External Diameter (mm): 53.00
Internal Diameter (mm): 41.00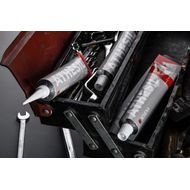 ATHENA
P40FORK455141
Fork Oil Seal Kit NOK 48x57,9x11,5 mm
Technical features
Oil Seal Total Height (mm): 11.50
External Diameter (mm): 57.90
Internal Diameter (mm): 48.00
Material: Rubber